Bob May's Home Page
Bob May's Incredible History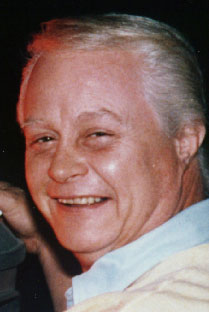 BOB MAY
Zany is the word for this very versatile comedian who began his career in 1941 at the tender, impressionable age of two, working with his grandfather, Chic Johnson of the "HELLZAPOPPIN" comedy team of Olsen and Johnson. May worked with his family playing theaters, nightclubs, and hotel supper clubs all over the world, along with their many television shows.
May left the show on two separate occasions. The first time to go to New York City where, for a year, he performed in the Broadway hit, "LIFE WITH FATHER" in the role of Harlin. The second time was when he was cast in an even bigger role for Uncle Sam. However, this did not curtail performing with his family, when he could wrangle a furlough.
Bob Mays' career was not impaired by the service since the USO needed in-house performers when the outside shows could not reach the camps. Bob gave much to the entertainment of the soldiers, as he produced and performed in many productions during, his stint.
Bob's Hollywood debut was with the encouragement and confidence of the ever-popular Jerry Lewis. This was the first of nine pictures with Jerry that would set Bob firmly in Hollywood as an established and revered actor in many films as seen in his resume. It was without question that Bob would find his way into the living rooms of the American home. On most any night he could be found performing in such shows as; RED SKELTON, McHALE'S NAVY, and as The Robot in LOST IN SPACE.
Intermixed with all of the shows, Bob still finds time to work in his first loved medium, nightclubs. He has worked the gambit from coast to coast in such well known clubs as - The Latin Quarter, The Riviera, and Chicago's well known hot spot, The Chez Paris.
Since Bob had the groundwork laid, thanks to his grandfather, he established himself in the areas of producing and directing. From him, Bob learned what a show needed in order to make it a success.
Bob May has not only directed his own productions, but also for Olsen and Johnson, as well as serving as Jerry Lewis' dialogue director and looping director.


MOTION PICTURES
NEW INTERNS
YOUNG INTERNS
ALL FALL DOWN
ENSIGN PULLVER
BEACH BLANKET BINGO
A TIGER WALKS
QUICK BEFORE IT MELTS
ROUSTABOUT
JAILHOUSE ROCK
HOW TO SUCCEED IN BUSINESS WITHOUT REALLY TRYING
LAST BOY SCOUT
PALM SPRINGS WEEKEND
HARLOW
9 JERRY LEWIS' FILMS (STARTING WITH "NUTTY PROFESSOR")

CABLE TELEVISION
SCI-FI SPACE SPECIAL
SCI-FI CHANNEL INTRO
ALL SPORTS (FOOTBALL SHOW)
OLSEN & JOHNSON TRIBUTE
LOST IN SPACE TRIBUTE
THE FANTASY WORLDS OF IRWIN ALLEN
SCI-FI ROBOT SPECIAL

COMMERCIALS
PEPSI
MRS. FILBERRS PUDDING
CHEVRON
MR. CLEAN
AJAX
BELL TELEPHONE

INDUSTRIAL SHOWS
CHRYSLER
DODGE
PLYMOUTH

TELEVISION
ARREST IN TRIAL
STREETS OF LAREDO
HIGH SCHOOL ALL-AMERICAN
F.B.I.
12 O'CLOCK HIGH
77 SUNSET STRIP
HAWAIIAN EYE
THE BUICK SHOW
ALL STAR REVIEW
COLGATE COMEDY HOUR
RED SKELTON SHOW
SKATE BIRDS
THE ROARING 20'S
STUDS
DR. KILDARE
DOBIE GILLIS
RIFLEMAN
SURFSIDE 6
TIME TUNNEL
VOYAGE TO THE BOTTOM OF THE SEA
McHALE'S NAVY
LOST IN SPACE
MR. NOVAK
NO TIME FOR SERGEANTS
FAMILY FEUD
THE LIEUTENANTS
MILTON BERLE SHOW
STEVE ALLAN SHOW
CHEYENNE
THIS IS YOUR LIFE
GOOD MORNING, AMERICA
DONNA REED SHOW
KELLY & CO.

SPECIAL
TOURS
HARLEM GLOBETROTTERS
SKATING VANITIES
THEATER IN THE ROUND
U.S.A. SERVICE CAMP WORLD WAR II TOUR
OLSEN & JOHNSON LONDON AND AUSTRALIA TOURS

NIGHTCLUBS & HOTEL SUPPER CLUBS
LATIN QUARTER - NEW YORK
RIVIERA - LAS VEGAS
CHEZ PARIS - CHICAGO
RIVERSIDE - RENO
HELLZAPOPPIN CLUB — MIAMI
FLAMINGO - LAS VEGAS
LAST FRONTIER - LAS VEGAS
MINT - LAS VEGAS
BEVERLY HILLS COUNTRY CLUB-KENTUCKY
ADOLPHIS - DALLAS
MONTELEONE - NEW ORLEANS
FAIRMONT - SAN FRANCISCO
ITALIAN VILLAGE - SAN FRANCISCO
COLONIAL INN - ST. PETERSBURG
CHASE HOTEL - ST. LOUIS
MULBOCK HOTEL - KANSAS CITY
(And many, many more)

STAGE PRODUCTIONS
SON'S A FUN
LAUGHING ROOM ONLY
STANDING ROOM ONLY
PARDON OUR FRENCH
LIFE WITH FATHER
PARDON OUR ANTENNA
HELLZA - SPLASHIN
OKLAHOMA (ARMY BASE)
GUYS & DOLLS (ARMY BASE)
HELLZAPOPPIN - VARIOUS EDITIONS
FUNS - A - BUSTIN

SPECIAL SHOWS
NAVY RELIEF SHOWS
CANADIAN NATIONAL EXPOSITION (CNE)
IOWA STATE FAIR
NEW YORK STATE FAIR
OMAHA HOME SHOW
LOS ANGELES POLICE DEPT. SHOW
HIGH HOPES (SPECIAL OLYMPICS SHOW)
TEXAS LAW ENFORCEMENT SHOW
RETIRED F.B.I. & SECRET SERVICE
PRESIDENT TRUMAN
PRESIDENT NIXON
PRESIDENT REAGAN
TEMPLE EMANUEL
LT. GOVERNOR REINECKE
FATHER FLANIGAN'S BOY'S TOWN

VIDEO TAPES
ROBOT MEMORIES
LOST IN SPACE
SEMI - PRO FOOTBALL HIGHLIGHTS

VARIOUS THEATRICAL ROASTS

VARIOUS LIVE RADIO SHOWS

TECHNICAL BACKGROUND
PRODUCER - 43 YEARS
DIRECTOR - 46 YEARS
STAGE MANAGER - 42 YEARS
LIGHTING DIRECTOR - 43 YEARS
STUNT COORDINATOR - 10 YEARS
DIALOGUE DIRECTOR - 5 YEARS
LOOPING DIRECTOR - 5 YEARS
SPECIAL EVENTS COODINATOR -20 YEARS
WRITER - 20 YEARS
DANCE DIRECTOR - 25 YEARS
CO-PRODUCER - 3 YEARS

INTERESTS
BEING WITH MY FAMILY
GOLF
SOFTBALL
FOOTBALL
BASKETBALL
HORSEBACK RIDING
SINGING
DANCING
FISHING
PHOTOGRAPHY
COACHING FOOTBALL
BOATING
SPECIAL OLYMPICS
SCI — FI CONVENTIONS
PUBLIC APPEARANCES



Thank You for visiting Bob May's Website